This is the last part of our Laos-Cambodia tour with my 3 days in Cambodia with Siem Reap, Tonle Sap lake, the markets of Siem Reap, the water festival and especially the most beautiful temples in Angkor. But since I am not a specialist in Khmer architecture and even less an historian, I am not going to give you a comment on the Angkor temples…. You will learn a lot more with a lonely planet guide or a local guide on site! I will simply tell you how I organized my visits and give you some practical information about my tour of the most beautiful Angkor temples.
Cambodia in 3 days – Tonle Sap Lake
The largest freshwater lake in Southeast Asia, Tonle Sap Lake is a site of great economic and ecological importance for Cambodia. The river (also called Tonle Sap) is 120 km long, floods the lake and then connects it to the Mekong River. It is impossible to delimit the river and the lake. This forms an important hydrological system in a floodplain that extends over 12 876 km2.
How to visit Tonle Sap Lake?
All Siem Reap travel agencies offer excursions to Lake Tonlé. We chose the Hello Bird Tour agency which was located in the street in front of our hotel (Psar Krom) Tel 012 555 978. For 18 USD per person, here is the program of our morning:
8:30 am: A mini van picks us up at the hotel and takes us about fifteen kilometers to take a boat.
Stop in the flooded forest for a canoe trip.
Visit by traditional boat to Kompong Pluk, a village located on the banks of the Tonle River which becomes a lake when it is flooded.
Return to the hotel around 1pm.
Cambodia in 3 days – Angkor in 1 or 2 days?
How to visit this huge Angkor site? One thing was for sure, I didn't want to spend 3 full days visiting the temples of Angkor by the classic tours that all the agencies or guides offer. Indeed, although the temples of Angkor are all magnificent and grandiose, I knew very well that after about ten temples, I would have really got tired of all these stones…. Moreover, when you see too much, you end up mixing everything: places, names, dates….
However, I still bought the 3-day package (72 USD) because it was the same price as the 2-day package and would allow me (if the sky was nice) to see the sunrise on the temples….
Selection of the most beautiful temples of Angkor to visit
As I did not want to do like everyone else by visiting the BIG CIRCUIT and the SMALL CIRCUIT of Angkor, I therefore trusted in my friend Mary (whom I thank again) who had prepared the list of the most beautiful temples to visit as a priority. Then we determined our own tour, which was reduced to 1.5 days of visiting the most beautiful temples of Angkor:
1 afternoon in tuc tuc (7 USD per person) to visit just a small part of the large Angkor circuit;
1 full day with a French-speaking guide (10 USD/person) and a private van (10 USD per person) to visit part of the small Angkor circuit, including ANGKOR VAT, which we had saved for the end.
Most beautiful Temples of Angkor in 1 afternoon
We decided to start with one of the most beautiful but also the most distant: The temple of Banteay Srei which is located on the site of the ancient city of Iśvarapura 25 km northeast of Angkor (45 min to go by tuc tuc tuc, 30 minutes of visit, 45 min to return). Then we continued with the temple of Preah Khan, my favorite of all (1 hour of visit) and finally the Banteay Samre (30 minutes) which was also on our way back.
Most beautiful Temples of Angkor in 1 day – My program
8:00 am – Our guide is waiting for us at the hotel with the van.
8:30 am – Visit of Angkor Thom: Former capital of the Khmer empire, it is a fortified city surrounded by 8 meter high ramparts and moats. The visit includes: the Victory Gate, Bayon Temple, Baphuon, Phimeanakas (visited very quickly) and the Elephant and Leper King Terraces.
10:30 am – Visit the Ta Prohm temple surrounded by the jungle and whose roots of huge cheese makers climb and decorate the walls (I loved it!).
12h00 : Lunch
14h00 : Temple Bakheng (not so beautiful)
15h30 – Visit of the Angkor Wat temple. Because we wanted to save the best for the end but for me, the most beautiful of all was the Preah Khan temple!
Our French-speaking guide to visit the temples of Angkor
To make sure I didn't make a mistake in choosing a guide, I asked around the forums and found a good contact: Samouth Norm samouthnorm888@gmail.com Tél : +855 86738650.
We communicated by email before our departure and everything was OK when the day came. Samouth has lived up to his reputation: he speaks perfect French, he is very well educated and has adapted to our requirements… Moreover, its rates are well below the rates offered by our hotel! I therefore recommend it with my eyes closed.
Cambodia in 3 days – Siem Reap – Old market – Water festival
Our last day in Cambodia was organized around the water festival. Bon Om Touk is one of the biggest festivals in Cambodia and is celebrated at the end of the rainy season. We were lucky to be there for his first day: November 10. All the banks of the river were equipped with bars, games, competitions, music… the bridges were sumptuously decorated and the atmosphere was joyful.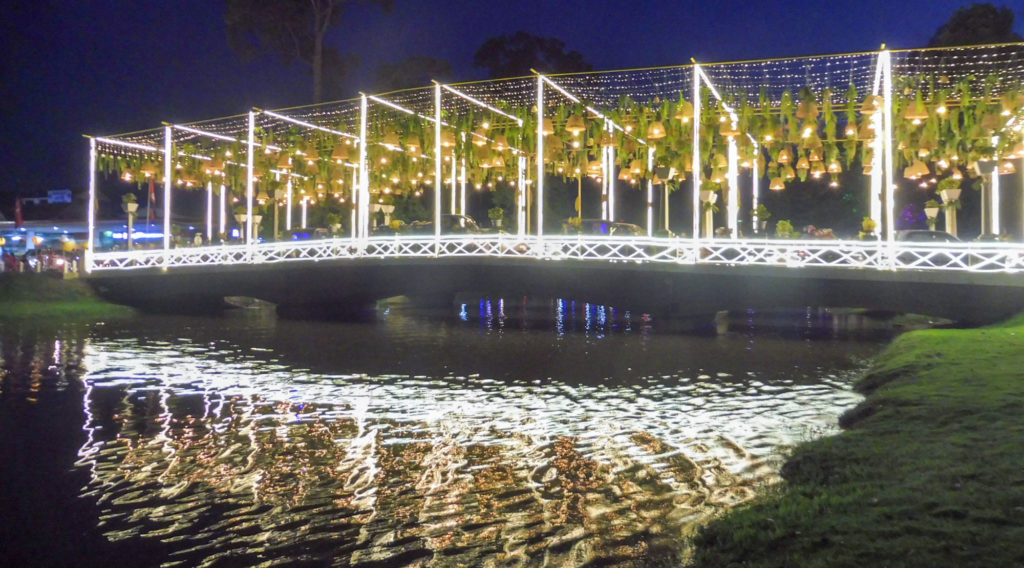 Then we continued with a visit to the old market full of colour! This will be our last good time in Cambodia as we unfortunately have to leave in the afternoon for Siem Reap Airport to return to France.
Discover now: My selection of cheap hotels for this itinerary