The first week of our 15-day tour in Laos Cambodia allowed us to discover part of northern Laos with Luang Prabang and its surroundings. Let's start here with our first 2 days in the beautiful cultural capital of Laos!
Luang Prabang: Spirituality, culture and beauty
I expected to discover a noisy, effervescent, polluted city, with a traffic of tuc-tucs and scooters terrible as in most Asian cities… But no, Luang Prabang is a small town of just over 400,000 habitants, very calm and quiet, very wooded and flowery.
There is a kind of bohemian atmosphere that I loved! This ancient royal capital is one of the most important and interesting tourist sites in Laos because it is the most important place of Lao culture, Buddhist tradition and spiritual practice. The many beautiful temples are a good example of this cultural heritage.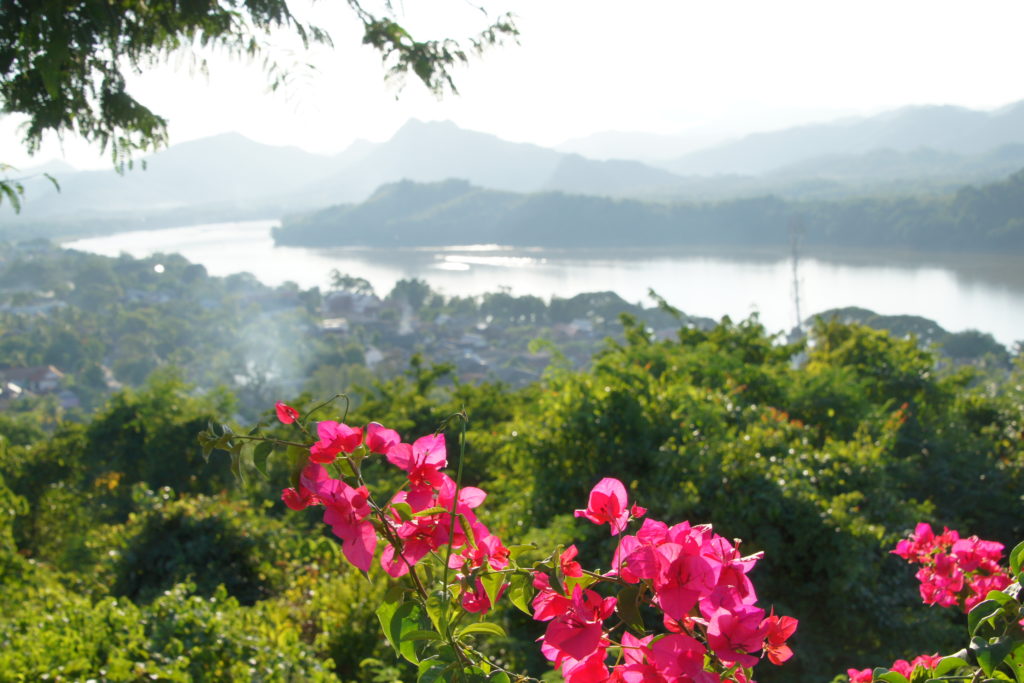 Luang Prabang in 2 days – How to get around?
The historical and cultural centre (temples, Royal Palace, museums, markets) is concentrated on 5 km along the Mekong River. As we had chosen a very well placed Guesthouse (see my selection of hotels of the tour), the city tour was very easily done on foot or by tuc tuc.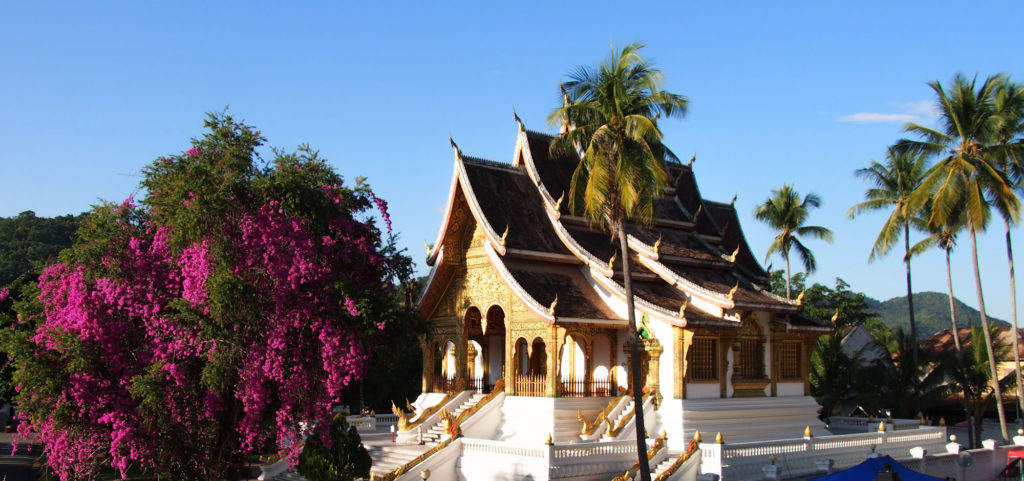 What to do, what to see in Luang Prabang in 2 days?
As the list of tourist points is too long to do everything in just 2 days, here are the activities and sites that I have selected as my "must-see places in Luang Prabang" that can be programmed over 2 days at everyone's pace:
The TAK BAT ceremony at 5:40 in the morning: Morning quest of the monks in the streets to whom the locals and tourists offer food;
The Royal Palace now the National Museum;
Temples :

Wat May (one of the largest and most beautiful temples in Luang Prabang);
Wat Xieng Mouane;
Wat Pakhan;
Wat Xieng Thong;

Ascent to the top of Mount Phousi to admire the sunset (arrive at the top at 5:30 pm);
Night market (craft market at the bottom of Mount Phousi);
Bouang Restaurant ( managed by 2 French women who have revisited the typical dishes of Laos).
Map of the city tour of my must-see places
My cheap hotel in Luang Prabang
Because it was very well located, cheap and well rated on Booking.com, I had selected the Nocknoy Lanexang Guesthouse. In the heart of the historic centre, 500 metres from the night market and the Royal Palace, this modest little establishment is located in a quiet street where most of Luang Prabang's guesthouses are situated.
Its plus: the kindness of the young Phoeng who welcomed us like kings and gave us good advice and helped us organize our trips to Pak Ou, Kuang Si, Muang Ngoy…
Its minus: the room was very small (lack of space) but clean and air-conditioned!
Discover now the continuation of my tour with:
the surroundings of Luang Prabang