Here is how our 2-day and 1-night trip to Muang Ngoy. And, as a bad experience always generates good advice, you will see that you should not go for a single night….
From Luang Prabang to Muang Ngoy – The stay I had dreamed of…
Because french people are not used to improvisations and approximations, because we think that nothing is easier than to organize a short stay of 2 days… Inspired by blog stories and travel forums, here is how I imagined organizing my trip to Muang Ngoy from Luang Prabang:
Taxi to Nong Khiaw (3h) along the Nam Ou River by road. We will pass and stop as we wish in the villages of Tai Dam, Ban Khok Line or Ban Hat Kho.
Arrival in Nong Khiow for lunch.
Then traditional boat to Muang Ngoy (2 hours of sailing).
Discovery and stroll in the village and overnight in Muang Ngoy.
The next morning, boat for a short 2-hour trip on the Nam Ou river.
Visit the weavers' village of Ban Sop Jam via the magnificent gorges that criss-cross between karst mountains…
Return to Muang Ngoi at the end of the morning then navigation back to Nong Kiaw (2 hours of navigation) + return to Luang Prabang by taxi (3 hours).
Our journey to Muang Ngoy – The harsh reality….
Public van (4h drive) to Nong Khiaw – Departure at 9h30 from Naluang Minibus Station in Luang Prabang (+856 71 212979) minivanstation@hotmail.com Price 70 000 LAK (7 € per person).
We will follow the Nam Ou River without stopping in the villages of Tai Dam, Ban Khok Line or Ban Hat Kho.
Arrival at Nong Khiaw van station at 1:30 pm.
Tuc Tuc to the pier (2 €);
There, we are waiting for the boat to leave at 2:30 pm but postponed to 3:20 pm. We learn that for the next day, there is only one boat coming back from Muang Ngoy and for a return at 9:30 am!!!!
Then slow boat to Muang Ngoy (1 hour of navigation).
Arrival at destination at 4:30 pm.
By the time we checked in at our guesthouse and put down the luggage, it was almost dark…
The next day, departure at 9:30 am by the only boat that connects Muang Ngoy to Nong Khiaw.
Arrival in Nong Khiaw at 10:45 am to take the van to Luang Prabang.
But all the vans being full, we are forced to wait for the next one that is announced at 11:30 or at 13:30…
13h40 : we finally leave in a van for 3 hours of driving in very uncomfortable conditions (very tight, with chickens at our feet…).
17h20 : Arrival at the minivan station in Luang Prabang. We still have to take a tuc tuc tuc to our guesthouse…
2-day stay – My regrets
Even if the trip along the Nam Ou River was a nice moment of calm and pleasure, even if the village is full of charm and is located in a magnificent setting, I must admit that I regret having lost 2 full days in transport to enjoy the site only a few hours… Unfortunately, I couldn't add an extra night because I had already booked the plane ticket to Pakse for the next day.
A wise advice to make a successful stay in Muang Ngoy: Plan at least 2 nights on site!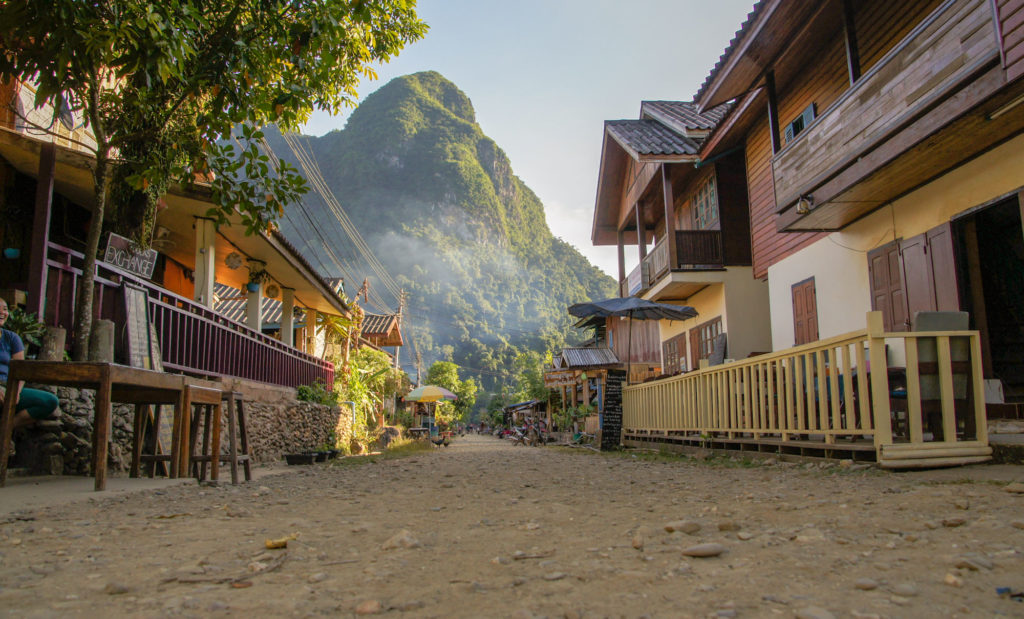 2-day stay – My favorites
Because everything is never totally missed, because there are always treasures that brighten up and make bad plans more joyful, here are my 2 favorites:
Our accommodation at the Ning Ning Guesthouse with its beautiful terrace facing the Nam Ou River and a magnificent view of the mountains. The place is incredibly beautiful, calm and conducive to meditation or contemplation or a good aperitif!
The good little restaurant that I particularly recommend for its delicious dishes and its enchanting and romantic setting: Riverside Bar/Restaurant – Main Street, Muang Ngoi Neua +856 20 23 377 877.
And my tour continues going to the south in Champassak region.