For our 8th day of our tour, we leave Pakse to spend 2 days on the Bolaven plateau in Champasak province in southern Laos with in particular the meeting of the Katou ethnic tribe. About 50 km north-east of Pakse, this high plateau (1,700 m) is one of the most fertile regions in Laos. It is, among other things, the coffee capital which represents a significant saving for the locals.
How to get from Pakse to the Bolaven Plateau?
Again, we used the services of the receptionist at our hotel in Pakse to help us find private transport for 2 days in the Bolavens. Mr. SOULOT (+856 30 54 54 51 866) find for us, via the Phou Phaeng Bolaven Travel Co, a van with private driver for 130 USD for 2 days. This brings the day to 65 USD for 4 or 15 € per person per day for a spacious and air-conditioned van: it was simply PERFECT!
Be informed that it is also possible to make a 1 day trip from Pakse with the Pakse Travel Co. agency which is located in front of the Friend Ship Mini Mark supermarket:
Another option would have been to rent scooters (Miss Nay Motorbikes) but, as we didn't have too much time, we didn't want to struggle on muddy tracks, we didn't want to organize luggage logistics, parking, GPS… we preferred the comfort of a large van.
Which loop in the Bolaven Plateau?
On the site, I could photograph the map that corresponded exactly to the loop we made in 2 days in the Bolavens:
What to see in the Bolaven?
Throughout the 2 days in the Bolaven, we will go from waterfalls to waterfalls, visit a coffee plantation and meet a minority ethnic group from Laos: Katous or Katus.
Waterfalls of the Bolaven Plateau
There are about twenty waterfalls on the plateau. Our little 2 days loop did not allow us to reach the Tad Tayicsua, which some blogs say would be the most beautiful. So we decided to discover the ones that were on the small loop: Tad Hang, Tad Lo, Tad Soung, Tad Yuang, Tad Champi and Tad Fan.
If it is undeniable that the waterfalls are all beautiful and refreshing, I must admit that we were a little fed up with all these waterfalls… One higher than the others, the other wider or even more developed…. 6 waterfalls in 2 days was more than enough for us!
Ban Kok Phoung Taï – The Katous or Katu village
Here is one of the best moments we spent in Laos: the discovery of the Katus in this small village of Ban Kok Phoung Taï and 2 French people who have settled there more or less temporarily. Our first contact with this ethnic group was by chance when we stopped in their food market where we bought some fruit. What surprised me first of all was the long, big bamboo pipe that all Katous (men, women, children and the elderly) smoke.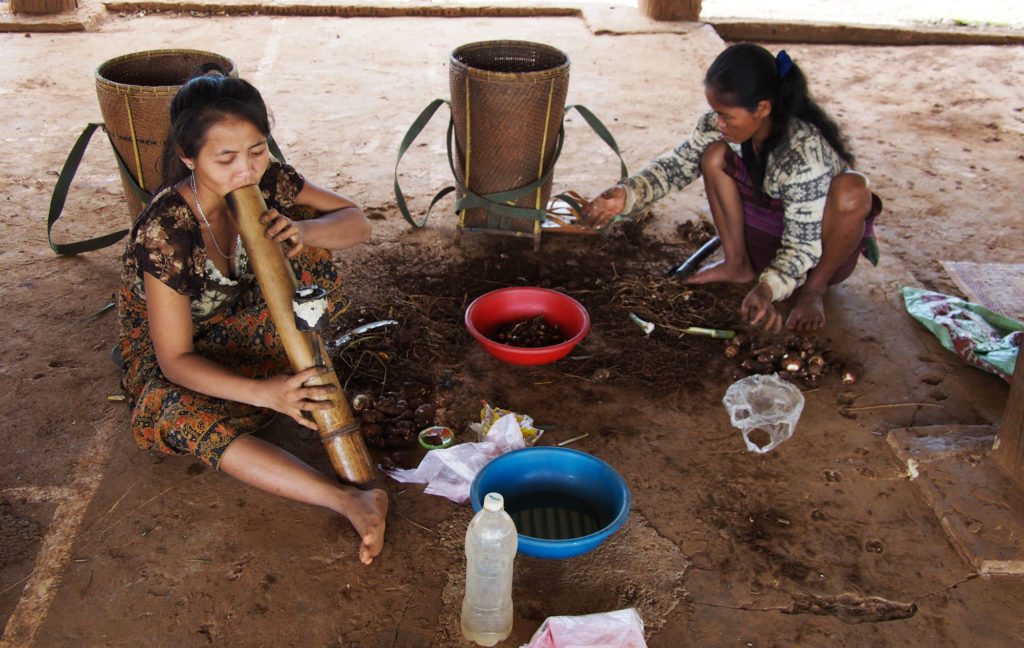 Then we walk to the village through a kind of checkpoint where we pay a small "tourist tax" of a few cents. We were hoping to find coffee to buy and were far from thinking that we would discover a true ethnic minority village in all its authenticity.
What a beautiful surprise to see this population that seemed happy living apart, according to their customs, with their traditions and speaking their own dialect.
Following a panel (see below), we are greeted by Mr. SOMPHENE and 2 French people who offer us a small coffee.
We exchange a little about Laos, about Mr. SOMPHENE and about the new life of Sophie who currently lives in this small village with the Katous. A photographer by profession, she decided to leave everything behind to travel the world by bike. I invite you to discover his blog: Un rêve, une parenthèse.
We understand that Mr. SOMPHENE wants to welcome more tourists to his country. He has some rooms to rent in his homestay. With rudimentary comfort, this type of accommodation could be of interest to tourists seeking to immerse themselves in a different culture and to be in contact with a people and their customs. This is an opportunity that is becoming increasingly rare…
Coffee plantation in the Bolavens
The altitude, climate and fertility of the plateau's soils favour coffee cultivation (introduced by the French in 1920). We stop for a tasting and bring back a full backpack!
My cheap hotel on the Bolaven plateau
In a dream setting, lost in tropical vegetation, Falls View Resort enchanted me. For a very small price of 27 € with breakfast included, the rooms are spacious and well equipped.
Follow me now to the 4000 islands…