After visiting Sydney, we continue with a road trip on the East Coast of Australia along the Great Barrier Reef. Our itinerary represents more or less 1,500 km that we will do in a rental car with stops in motels or cheap hotels. Here is how our 2-week road trip in Queensland.
Queensland tour – Map of my 2-week itinerary on the East Coast
This 2-week road trip along the Great Barrier Reef is the second part of my 3-week tour in Australia. Here is the map of the route from Brisbane to Cairns:
Queensland road trip Tour – Stages of my itinerary
Flight Sydney Brisbane 17:00
Day 1: Car and road rental to Hervey Bay (hook to Rainbow beach)
Day 2: Hervey Bay
Day 3: Hervey Bay (1 day trip to Fraser Island)
Day 4: Hervey Bay (Whale watching excursion)
Day 5: Direction Rockhampton (stopover town) 4h30 drive
Day 6: Early departure for Airlie Beach (5h10 drive) – Hills borough cap and hotel installation
Day 7: Airlie Beach (Whitsunday Islands tour)
Day 8: Airlie Beach relaxing day
Day 9: Drive to Cairns and set up
Day 10: Cairns – Excursion to Green Island
Day 11: Drive to Daintree Rainforest National Park then continue to Port Douglas and install
Day 12: Port Douglas – Relaxation and restaurants
Day 13: Return to Cairn (2h drive) – return by car – hotel near the airport
Day 14: Flight from Cairns to Alice Springs 5h50
Road trip in Australia Queensland – Hervey Bay
After a few hours spent in Rainbow Beach, we arrived in Hervey Bay and settled down to spend 4 nice days there. Excursion to Fraser Island, whale watching cruise (with Spirit of Hervey Bay), idleness at the hotel pool and good fish (at Madigan Seafood) and seafood tasting (Seafood Festival 12/08/19) were the main activities of our stage in Hervey Bay.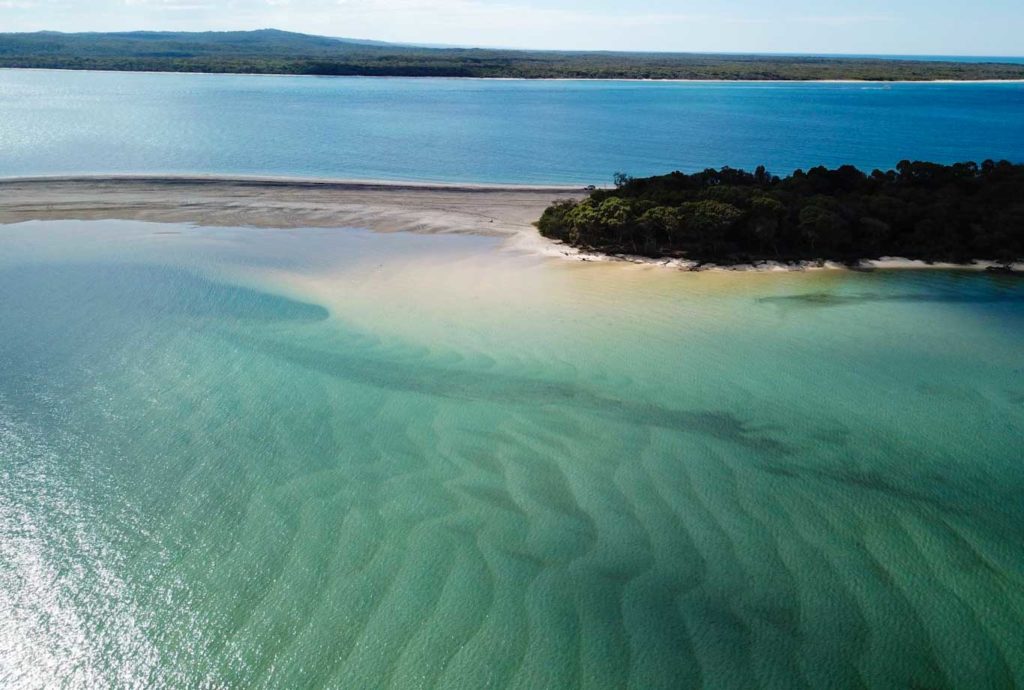 Road trip in Australia Queensland – Hillsborough Cap Beach
On the road between Hervey Bay and Airlie Beach, I had planned to stop at this beautiful beach on Hillsborough Cape to watch the kangaroos. And it was a great moment when we arrived around 3pm and saw these adorable wallabies… It was in the picnic area near the campsite that we were able to see 5 or 6 of them and approach them a few metres away. Note that apart from the kangaroos, the beach is sublime!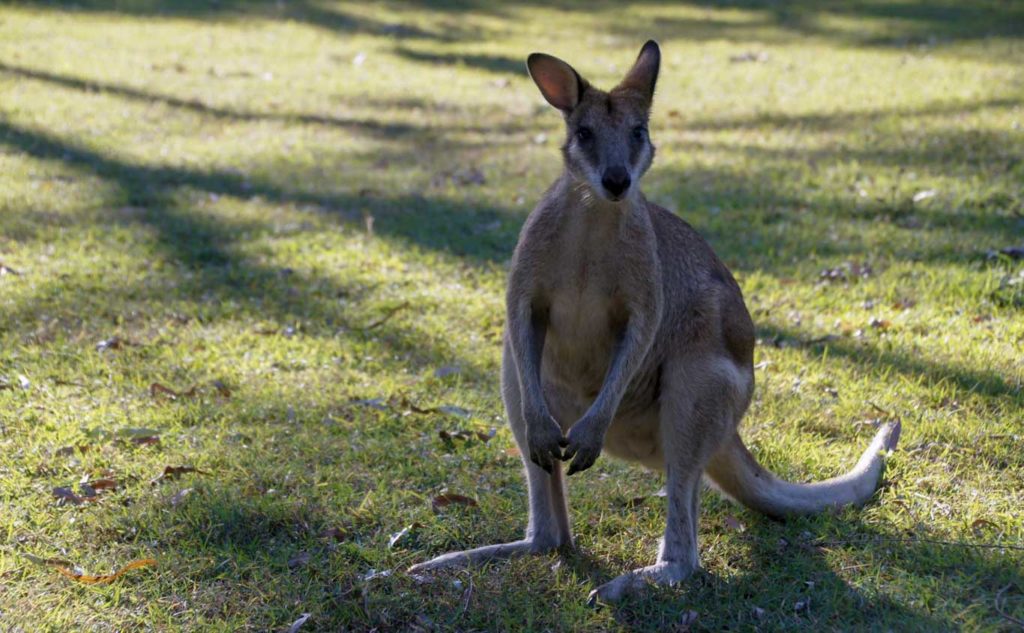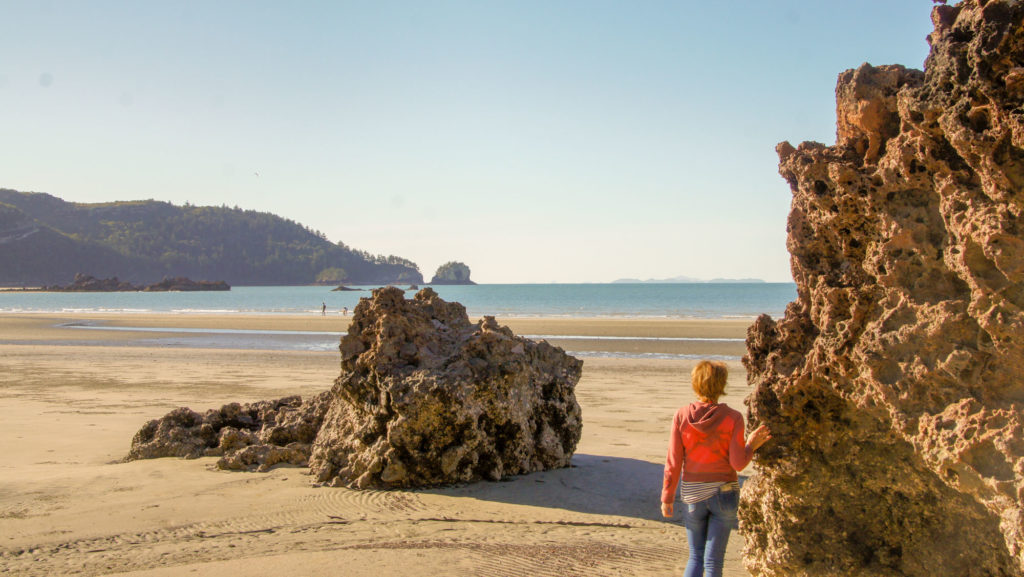 Road trip in Australia Queensland – Airlie Beach
Airlie Beach is the ideal seaside resort to discover the most beautiful islands of the Great Barrier Reef: the Whitsundays Islands. However, we were also able to appreciate the relaxed atmosphere and the friendly setting of this small town. Our super well located motel facing the artificial lagoon made our stay even more enjoyable! Here is the view from the terrace of our room where we had breakfast outside:
3 nights in Whitsunday on the Beach Motel at Airlie Beach – Price per night: 83 € without breakfast – See on Booking
Road trip in Australia Queensland – Whitsundays Islands
It was with Big Fury, a super fast boat that we reached the islands in just one hour. I had booked the day trip for $155 through an online agency (Sailing Whitsundays) but I could see that you can get tickets on site at the pier for only $110!
When you get to the 3 viewpoints at the top of the hill and discover the Whitsundays from above, it's just wonderful. Shades of blue, emerald, ochre and turquoise blend harmoniously before our eyes.
I'm totally in love with this place and I have trouble getting back to the boat to go to Whitehaven Beach.
Road trip in Australia Queensland – Billabong Sanctuary
Leaving Airlie Beach for Cairns, just before Townsville, we stopped at the Billabong Sanctuary. It is an 11-hectare park where injured or sick animals are cared for. It was an opportunity to approach animals and Koalas and pet kangaroos in particular.
Road trip in Australia Queensland – Cairns
After a full day of driving 621 km from Airlie Beach to Cairns, we will stay 2 days in this city that is known as very touristy. Disappointment because this city did not seduce me at all (lack of atmosphere, authenticity…).
Road trip in Australia Queensland – Green Island
It was at Cairns North visitor information centre (51 The Esplanade) that I booked the day trip to Green Island ($110).
Green Island is a beautiful island with a coral reef that is home to more than 120 species of plants, exotic birds, multicoloured corals and fish and other marine species.
But, be careful! I didn't know the Australians had made it a park dedicated to mass tourism. Indeed, hundreds of tourists are dumped every day by large multi-storey boats on this small piece of the island, it is a helicopter that rotates constantly above the islet to impress wealthy tourists, it is a Resort that stands proudly in the middle of the island and it is also a crocodile park that they have moved to make money with tourists. In short, it is far from being the wild, unspoilt and authentic island I was hoping for! On the other hand, the bottoms are very populated and beautiful.
Road trip in Australia Queensland – Mossman Gorges
I had planned to discover the Kuranda Rainforestation from Cairns to Port Douglas. But when I booked the Green Island tour, I asked for advice for Kuranda and was discouraged from going there (too many tourists, too expensive, too untamed). I was told that Daintree Rainforest National Park was much more interesting to do. So change of program and direction Mossman Gordes for a 2h30 hike.
Mossman Gorge is located in the southern part of Daintree National Park, 80 kilometres north of Cairns. This national park is part of the lands of the Kuku Yalanji indigenous people. A suspension bridge crosses Rex Creek near its entrance into the Mossman River, connecting the parking area 2 km from the site from where a 2.4 km loop of walking in the rainforest begins. Possibility to take a paid shuttle. We preferred to do everything on foot to enjoy the forest but also to save money…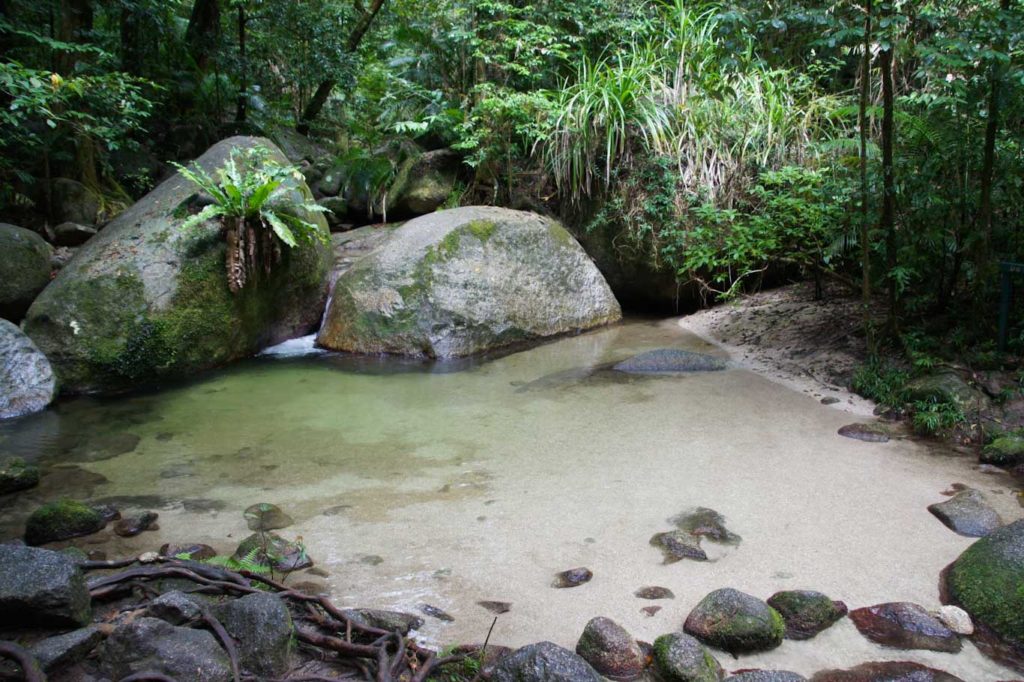 Road trip in Australia Queensland – Daintree River
It is in Daintree Village that we choose to cruise the Daintree River to discover crocodiles in their natural environment. The place is very beautiful and but the crocodiles a little asleep in the early morning… The walk lasts about 1 hour and allows to observe some beautiful specimen of crocodiles but also many birds.
Road trip in Australia Queensland – Port Douglas
Port Douglas, it was 2 days of happiness! We spent all our time bubbling and eating. But all this in a wonderful setting! Indeed, Port Douglas is a small seaside resort full of charm and good restaurants! It is the 2 fish Restaurant at 100 m from our motel that was our canteen during these 2 days. I think we have succeeded in testing all the dishes on the menu, which I highly recommend.
In addition, our beautiful motel was 3 minutes from the beautiful Four Mile Beach where we did the lizards : Port Douglas Motel in Port Douglas – Price per night: 120 € without breakfast – See on Booking
Discover the rest of our trip with our road trip in the Outback: