For the first day of our 3-week tour in Australia, we followed a walking itinerary of Sydney's must-see in 1 day. Despite the fatigue of the previous day's trip and the jet lag, I must say that this optimized tour was perfect for a day of tourism at a pleasant pace and under the sun!
Organisation of our visit to Sydney in 1 day
As we had very little time to spend in Sydney, it was impossible for us to visit everything. Compromises had to be made. As usual, I started taking my Lonely Planet guide to list the must-see visits to Sydney. Then I went on the Internet, blogs and travel forums to see detailed photos and comments on these visits. Thus, I was able to select only the places that attracted me the most, considering my tastes and desires. Then I checked if all these visits were possible in a single day. Then I organized them into walking tours in order to optimize the precious time we are missing all the time! Here is the progress of our day of visit of Sydney's must-see places.
Sydney in 1 day – My must-see places
Here are the steps of my Sydney walking tour which took us about 5 hours at a slow pace:
Circular Quay
Campbell's Cove et Campbell's Storehouses
Harbour Bridge
Walsh Bay
Observatory Hill
The Rocks
Museum of Contemporary Art (George St)
Opera Quays
The Opera
Royal Botanic Garden
Sydney in 1 day – Map of my walking itinerary
Sydney's must-see tour in 1 day
Sydney's Must-See – Circular Quay
Our walking tour started with Circular Quay. I must say that I had booked our hotel based on its location very close to Circular Quay. Indeed, this district is a concentration of Sydney's most popular tourist and lively sites. From our hotel we walked there in 10 minutes. The place is really nice, beautiful view, relaxed atmosphere, some shops and bars and restaurants…
The walk continues to Campbell's Cove. It's the photo stop to take the famous Harbour Bridge.
Sydney's Must-See – Harbour Bridge
Then we continue my Sydney city tour to divert to the bridge and climb up to the Harbour Bridge via stairs and a pedestrian-only passage (east side). We reach the pillar of the Pylon Lookout from where we have a panoramic view over Sydney and of course over its beautiful Opera House.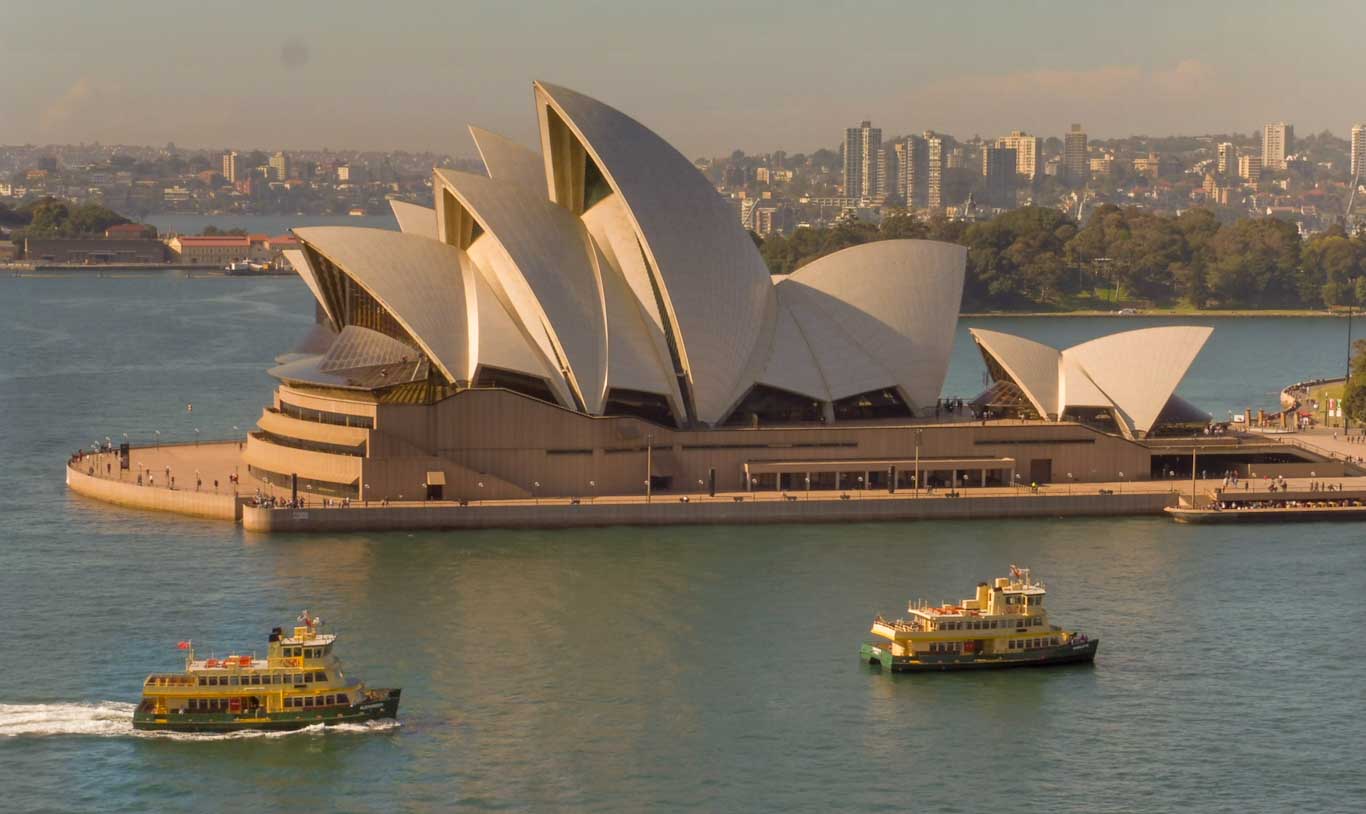 Sydney's Must-See – Observatory Hill
We go back to Walsh Bay in the direction of Observatory Hill. We climb up this small hill from which we have another glimpse of the city of Sydney.
We continue our walk to The Rocks.
Sydney's Must-See – The Rocks
The Rocks is a small historical district (dating from the beginning of colonization) very close to the port. It is comprised of some beautiful buildings, beautiful identical houses in line, cottages with sandstone facades and old pubs.
Sydney's Must-See – Museum of Contemporary Art
A small detour to the beautiful Museum of Modern Art (free admission), which we will visit in just half an hour.
Sydney's Must-See – Opera Quays
This is where we stop for lunch with a fish and chips on the terrace of a small restaurant facing the quays. We will continue our visit of Sydney along the quayside to reach the famous Opera House.
Sydney's Must-See – The Opera House
It is Sydney's most famous and touristic site. Its architecture dating back to the XXᵉ century is majestic and allows you to capture the light with colours that change according to the time and place from which you take the pictures.
The Opera can be visited inside but I must admit that I didn't really want to spend $42 to see the interior that I had already seen on the Internet.
Sydney's Must-See – Royal Botanic Garden
It is in beautiful gardens that we finish our little tour of Sydney's must-see attractions. I could have added a few sites I was thinking of visiting in Sydney but I preferred to book them for the next morning and thus better enjoy the atmosphere of Circular Quay…
My cheap hotel in Sydney
We spent 2 nights at the City Lodge Hotel (now called Comfort Hotel Sydney City). In addition to its very low price, its main asset is its location. Located in Sydney's business district, it is very centrally located with Winyard Station nearby, which provides direct access to the airport. In addition, located between the two main and main avenues Pitts Street and Georges Street, it is only a 15-minute walk from Sydney's famous opera house.
From this hotel, you can also walk to Circular quays, the Rocks and the port in just 10 minutes! Admittedly, its decoration is a little old (and the carpet stained) but a kitchen with a dining area are available in the common areas (very practical for the evening when you are too tired to go to the restaurant).
City Lodge Hotel Sydney – Price of the night: 88 € See on Booking
Discover the rest of my stay in Sydney: